Hit refresh for your body!
Pure Nectar understands how challenging it can be to start a healthier lifestyle. Our Juice Cleanse programs are specially designed to help you eliminate processed foods and increase nutrient intake.  
We have developed our juice cleanse program based on the principles of Traditional Chinese Medicine and Naturopathic Medicine, ensuring optimal detoxification results. Each set consists of approximately 1,200 calories per day, and we follow the American Heart Association's recommendation to consume a variety of colorful fruits and vegetables daily in our juice cleanses.
Our juice cleanse sets are designed to give your digestive system a break while delivering a flood of essential nutrients to the body. By providing the body with essential micronutrients, antioxidants, and phytonutrients, our juice cleanse can help prevent common illnesses such as hypertension, diabetes, and heart disease.
Pure Nectar has made it easy for our customers to follow our juice cleanse program, which was carefully and strategically designed for beginners to intermediate levels. Our juice cleanse sets are pre-packaged, and our schedule provides a clear guide on when to consume each flavor throughout the day.
Our goal is to help you establish healthy habits that you can continue beyond the cleanse. Our mission is to ensure that maintaining a healthy lifestyle is both simple and enjoyable for you. Take a small step toward feeling your best inside and out!
Wellness Jumpstart:

A juice cleanse can be a great way to jumpstart a healthier lifestyle by eliminating processed foods and increasing nutrient intake.

Detoxification

: A juice cleanse can help eliminate toxins from the body and promote healthy liver and kidney function.

Cellular Rejuvenation:

The high nutrient content in fruit and veggie juices can support cellular repair and rejuvenation, leading to healthier tissues and organs.

Increased Energy:

Consuming cold-pressed juices can help boost energy levels by providing the body with a quick source of natural sugars and nutrients.

Mental Clarity:

A juice cleanse can help improve mental clarity and focus by reducing inflammation and providing the brain with essential nutrients.

Improved Digestion:

Drinking juice can help promote healthy digestion by providing the body with easily digestible nutrients, enzymes, and fiber.

Weight Loss:

A juice cleanse can help jumpstart weight loss by reducing calorie intake and increasing nutrient intake.

Elevated Mood

: The nutrients in cold-pressed juice, especially those high in vitamin C, can help boost mood and reduce stress.

Reduced Inflammation:

Many fruits and vegetables contain anti-inflammatory compounds, which may help reduce inflammation in the body.

Boosted Immunity:

The high nutrient content in fresh juice can help support a healthy immune system and reduce the risk of illness.

Improved Sleep:

Drinking juice can help promote better sleep by providing the body with nutrients that support relaxation and healthy sleep patterns.

Better hydration:

Drinking plenty of juice can help keep the body hydrated and flush out toxins.

Clearer skin:

The high nutrient content in fresh juice can help improve the appearance of skin by supporting healthy skin cells.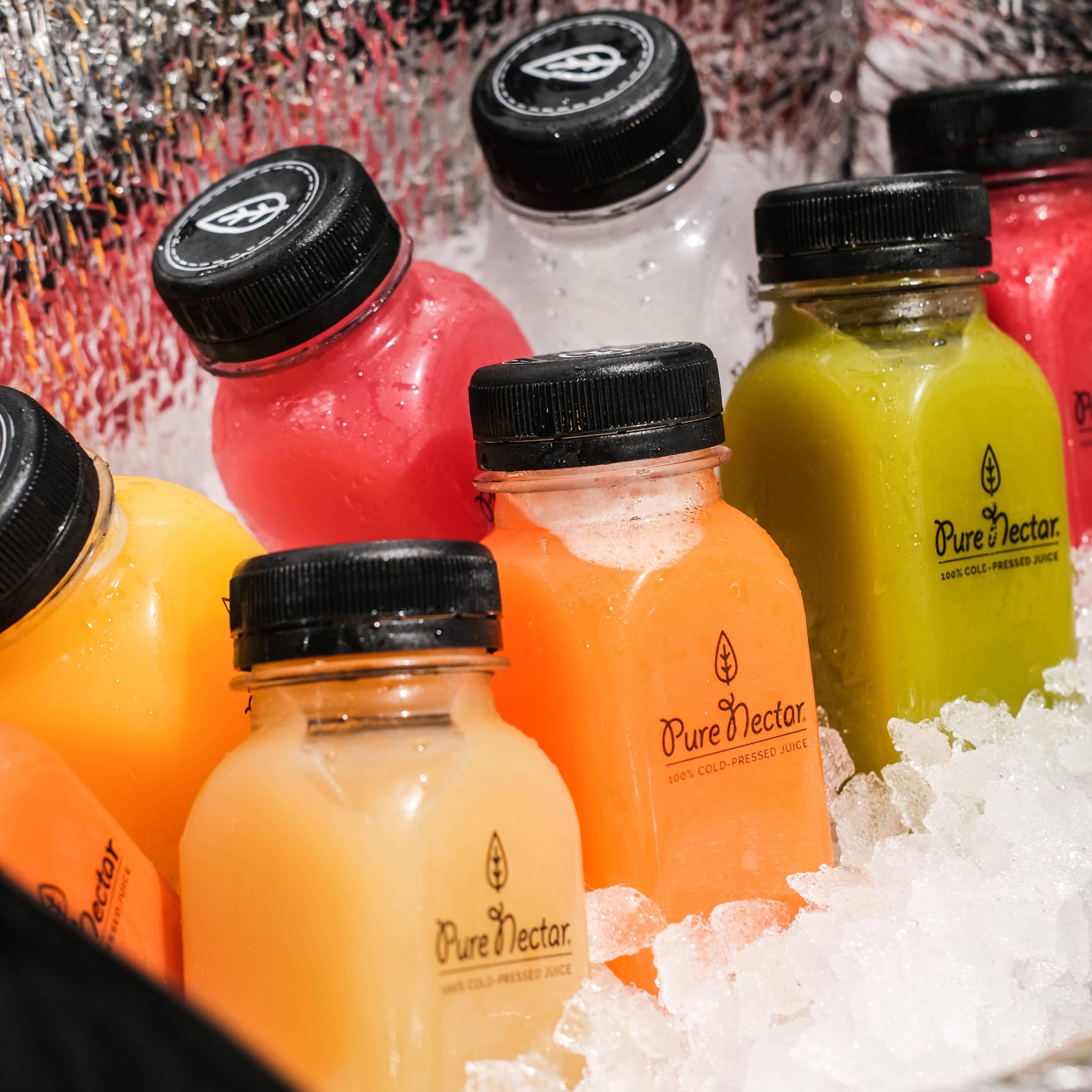 How should I prepare for a Pure Nectar Juice Cleanse?
To prepare for the juice cleanse, we suggest that you gradually eliminate processed foods, caffeine, and alcohol from your diet a few days before the program. It is also important to hydrate yourself adequately by drinking plenty of water.

Additionally, we suggest having a light, high-fiber meal the night before starting the juice cleanse. This meal should include whole fruits, vegetables, psyllium, barley, oatmeal, quinoa, unpolished rice, and/or fish as a viand to help prepare your body for the cleanse.
Can I eat food during a cleanse?
Our juice cleanse program is specifically designed to give your digestive system a break while flooding your body with nutrients. Therefore, we recommend that you stick to the juice cleanse plan and refrain from solid foods during the program for maximum benefits.

However, if necessary, you may consume a small amount of steamed, broiled, boiled or raw vegetables and/or fish.
Is it okay to drink coffee?
It is recommended to avoid all types of stimulants, including coffee, tea, alcohol, and cigarettes, during the juice cleanse to achieve optimal results.
Is it recommended to exercise during a Juice Cleanse?
While the juice cleanse provides enough calories to support your daily activities, it's generally advised to avoid intense exercise during this time. However, it ultimately depends on how you feel and what your body is capable of.
It is highly advised to refrain from smoking during the cleanse to allow your body to fully detoxify and eliminate toxins, including nicotine.
Can I drink vitamins and supplements when I cleanse?
It is not necessary as the fruit and vegetable cold-pressed juices provide an abundance of antioxidants, minerals, enzymes, vitamins, phytonutrients, and carbohydrates. However, if you have a diagnosed vitamin or mineral deficiency such as iron, B12, iodine, or vitamin D, it is important to continue taking these throughout your cleanse.

It is essential to consult and seek approval from your doctor before proceeding with the cleanse to be safe!
Is drinking water allowed during the juice cleanse?
Yes, it is important to consume a minimum of 8 glasses of water throughout the day.
What are the possible reactions to expect during the juice cleanse program?
During the program, some individuals may experience a healing crisis, which may include symptoms such as headache, migraine, nausea, fatigue, bad breath, body odor, diarrhea, or mouth sores. These reactions are a natural part of the detoxification process and should subside within a few days. If you experience severe symptoms, it is advisable to seek medical attention.
What dietary recommendations should I follow after completing the juice cleanse program?
It is essential to maintain healthy eating habits following a juice cleanse. We recommend avoiding high-fat, high-sugar, and hard-to-digest foods that may compromise the progress you have made during the cleanse. We suggest consuming plant-based, unprocessed, vegetable-rich, and whole foods (boiled, broiled, or baked) for the next three days to support the clearance of toxins. This approach will not only enhance the effectiveness of the cleanse but will also aid you in jumpstarting a healthier, stronger, and more vibrant version of yourself!
Can the Juice Cleanse make me lose weight?
Juice cleansing can be a useful tool for jumpstarting a new healthy eating program or for resetting after indulging for a few days. It's also a common practice for athletes and health and wellness-focused individuals to prepare their bodies for their workload. However, we don't recommend juice cleansing as a long-term weight loss program.
When you follow a juice cleanse, you're consuming only liquids all day, which significantly reduces your calorie intake. This can result in short-term weight loss. However, we believe that sustained, long-term, and healthy weight loss comes from a healthy and well-balanced diet.
At Pure Nectar, our goal is to help you eliminate toxins and improve your overall health. We recommend incorporating a bottle or two of any of our cold-pressed juices into your daily routine as part of a well-balanced diet.
What can I do with the leftover Lemon Water Kefir?
We recommend taking one (1) shot or 30mL after every meal once you've completed the cleanse. This will help maintain the probiotic benefits of the kefir and support your digestive health.
Can individuals with medical conditions such as hypertension, diabetes, or cancer participate in a juice cleanse?
We highly recommend consulting with your physician, doctor, or other qualified health professionals before beginning any nutritional programs.

 
Is it safe to do the juice cleanse while pregnant or breastfeeding?
We highly advise against performing a juice cleanse during pregnancy or while nursing due to the potential risks involved. Your body requires a variety of nutrients that cannot be solely provided by fruits and vegetables.

Please consult with your healthcare provider before beginning any nutritional programs.
How often can I do a Pure Nectar juice cleanse?
The frequency of the cleanse is entirely up to you and your personal preference. Many individuals choose to cleanse as needed, while others prefer to make it a regular part of their wellness routine. Listen to your body and do what feels best for you.
Can I create my own cleanse?
Our Pure Nectar juice cleanse program is expertly crafted by our in-house doctors and partner nutritionists, following the principles of Traditional Chinese Medicine and Naturopathic Medicine for optimal detoxification results. While you have the flexibility to create your own program, we cannot guarantee the same level of effectiveness compared to our carefully designed cleanse packages.

*Please note that discounts apply exclusively to our set packages, and changes to the included flavors are not allowed. However, individual flavors and bottles can be purchased separately.
Do you have a 5-day or 7-day Juice Cleanse?
Our in-house nutritionists suggests that a 5-day or 7-day juice cleanse may not be the best option for everyone. Our in-house nutritionists recommend that our juice cleanses be used as a tool to jumpstart your wellness journey. It's important to note that our fruit and vegetable juices may not provide all the necessary nutrients that your body needs, such as protein and fats.
We suggest incorporating proteins and fats into your other meals after the third day of the juice cleanse while still using our juices as meal replacements for the remaining meals. This approach will help ensure that you are getting all the necessary nutrients to maintain a healthy lifestyle while still enjoying the benefits of our juice cleanse.
Will there be a guide provided when the set is delivered?
Absolutely! All Juice Cleanse Sets come with a guide and schedule outlining which flavors to consume throughout the day.
How will the Juice Cleanse Sets be delivered, and will they arrive all at once?
All juice cleanse sets will be delivered one day before consumption.

All orders are delivered at once, and free delivery is available from 9:00 am to 8:00 pm daily, except on special holidays.
How can I properly dispose of the empty Pure Nectar bottles?
We encourage customers to drop off clean and empty bottles at our Katipunan and San Antonio branches. These bottles will be sent to our recycling partner, The Plastic Flamingo, where they will be up-cycled through plastic extrusion into eco-lumbers for creating emergency shelters, furniture, and other building materials.
You may coordinate with our representatives in our stores directly for drop-offs.:

PURE NECTAR KATIPUNAN

G/F MQI Centre, 42 Esteban Abada
corner Rosa Alvero St. Quezon City

(Beside RCBC)

Store Hours: 9am to 6pm daily

Contact: (0917) 625 2351

PURE NECTAR SAN ANTONIO

G/F San Antonio Place

#1 Capitol Hills Drive, Quezon City

(In front of Robinsons Supermarket entrance)

Store Hours: 9am to 6pm daily

Contact: (0917) 639 8797
What can I do with the Thermal Bag?
We encourage our customers to consider reusing these bags for grocery shopping or to donate them. At this time, we regret to inform you that we are unable to accept returns of our thermal bags.
---
| | |
| --- | --- |
| Time | Flavor |
| | |
| | 1 shot or 30mL Lemon Water Kefir |
| | |
| | 1 shot or 30mL Lemon Water Kefir |
| | |
| | |
| | |
| | |
| | |
| | |
| --- | --- |
| Time | Flavor |
| | |
| | 1 shot or 30mL Lemon Water Kefir |
| | |
| | 1 shot or 30mL Lemon Water Kefir |
| | |
| | |
| | |
| | |
| | |
| | |
| --- | --- |
| Time | Flavor |
| | |
| | 1 shot or 30mL Lemon Water Kefir |
| | |
| | 1 shot or 30mL Lemon Water Kefir |
| | |
| | |
| | |
| | |
| | |
---